Last month was a slower month than February despite the fact it was longer? I suppose it happens. Here's what I've been reading!
The Copper Promise by Jen Williams [3/5 stars]
Don't let that star rating deter you. This book is a lot of fun. So much so, that I borrowed its sequel from the library long before I'd even finished this one. So why didn't it get top marks?
Let's go back a bit: The Copper Promise was initially a short story about a group of individuals on an adventure into an ancient citadel and it … shows. Well, the book works kind of fine, but it doesn't hang together as well as you might hope. The through-line of a continuous story across the four parts (or novellas) was nice for a sense of some continuity but some threads were more tenuously connected than others. Because of that, some things didn't need to happen whatsoever.
Also, sadly the focus on adventure meant they flitted across the book's world meant that I couldn't soak into much of its locales in depth, or appreciate certain events that happened, which is a shame because there are flourishes of some really cool stuff that would have been heavy-hitting had there been more careful build up. The focus is more of the world's history which is well-drawn. Place needn't be your number one, especially if you don't have a fixed one in place, but I wish there was more anchoring. They seemed to be in one place for only a tiny amount of time, which was a shame. What I'm saying is that having more development of the places they were going would have made it better.
Also, there are a surprising amount of unnecessary POVs (one-time characters who had zero bearing on the plot, for example).
But—and this a big but—the other aspects are an utter delight. Even when the story was slowing down to weird side streets and avenues, the writing was breezy and unobtrusive. Details were pared down and chapters were short, which made it quick to get through, although I did feel its size towards the end. And Bezcavar. And the griffins. Wydrin, and having one of the main cast be gay (and it not define who they were!)—all really cool!
Overall, it was a fun ride and I'm currently reading its sequel which structure-wise is so far improved upon the major gripes I had with its predecessor. You'll hear about it soon enough.
Economics by James Forder (Beginners Guides) [3/5 stars]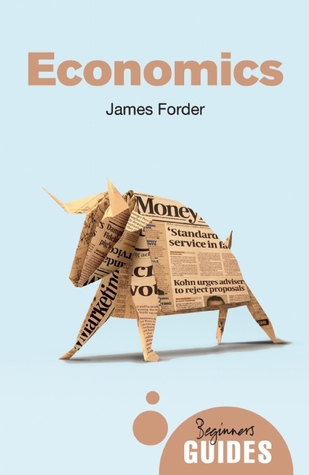 I'll confess my disappointment.
What I thought I was getting: an accessible introduction to economics for the uninitiated. What I got: was a strikingly obscure one in places. This is not to say that there weren't lucid moments—quite the opposite. But Forder had a habit of running away with a long train of abstraction that didn't do well for my understanding. Difficult subjects can be explained well and points of this book were not. It definitely could have benefited from more practical examples to illustrate points more clearly, for that is when I could understand Forder's presentation of ideas.
Despite that, I did learn a few things about economics and what it can and can't do. Also, a huge amount of respect for his critique of economic and, to a larger extent, academic "priesthood" (or elitism). It had me grinning. I do feel slightly more confident in exploring economics but sadly not as much as the sweet, sweet promise that the book offered.